10 Total pieces
2 Large blocks (20"x20"x5")

2 Half blocks (20"x10"x5")

2 Arches (20"x10"x5")

4 Quarter circle pieces
MagnetBlox™ are sewn from durable, high-quality upholstery. The fabric is stain resistant and easy to wipe down. Each cube has 24 powerful magnets (4 on each side) to make building a breeze! Color coding makes construction easy for all ages.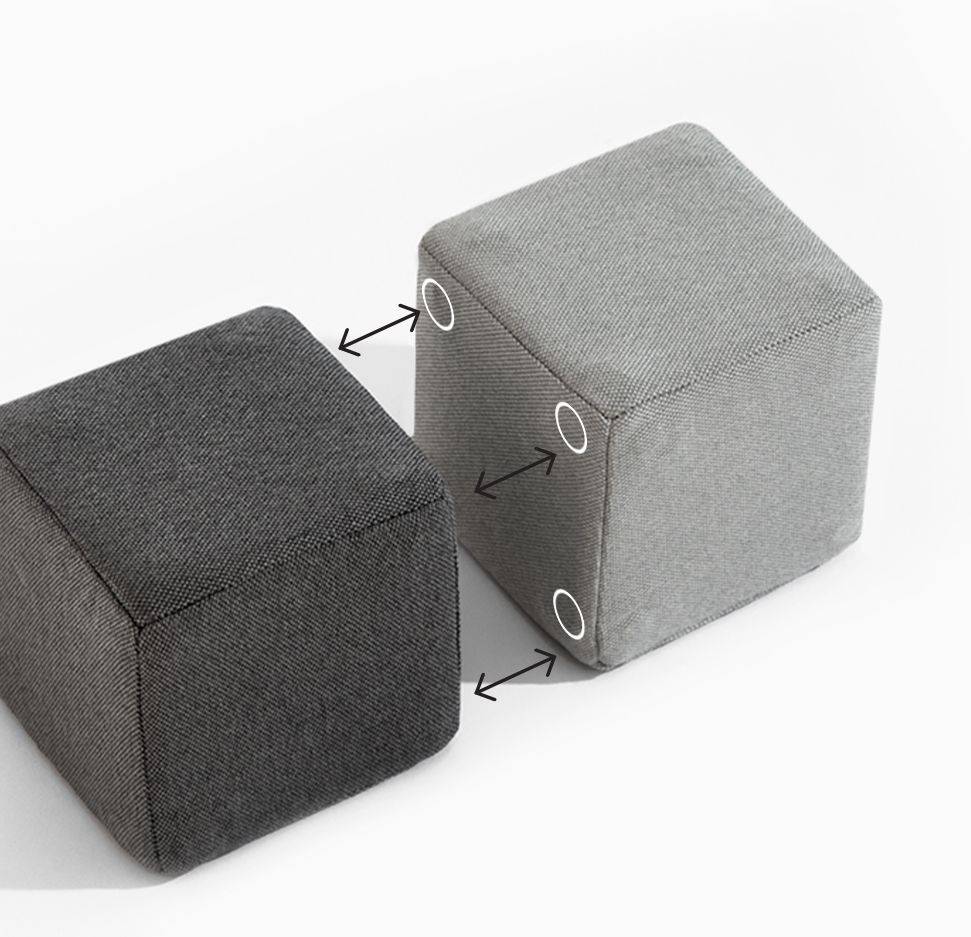 ONE Select 2 different color blocks (opposites attract)!
TWO Align the edges of the blocks.
THREE Blocks stick together and you're ready to build!
MagnetBlox™ are a high quality magnetic building toy that supports pretend play + builds little ones' skills! Ages 2-10+ love playing (and learning) with MagnetBlox™ for endless entertainment. This STEAM/STEM toy can easily be stored as a chair or table in your little one's room, family room, or play room!
For imagination
For active play
For building together
For endless entertainment
You can build so much with MagnetBlox, need inspiration? Check out our build guide here.
Needs bag or bin
Great product bought two sets of mega and standard for my grandchildren
Well made and fun but expensive
They are well made and fun to play with but you don't get very much for what you pay for. If I had only purchased the mega set alone, my kids would not be able to make very much. You are basically forced to buy more than one set with forces you to spend upwards of $800 which is a LOT of money for only a few blocks.
Unhappy
Hello, I sent an email a few days ago. I wasn't happy with these. My grandkids opened this and literally walked away. I thought these were all individual blocks. Maybe I ordered the wrong thing. I'm waiting to see how I can return them. Just too expensive for my grandkids not to play with them
A Christmas Hit!
These blocks were a Christmas hit for our 3 and 6 year olds. Santa made a castle wall that had to be circumvented to get to the Christmas tree. The 3yo woke up first and destroyed it in our sleep…so Santa returned to reassemble it before the 6yo was amazed by the blocks and immediately started building with them. Fantastic family and solo fun away from the screen!
Superior
These blocks are the most played with item at my grandsons house. Every day, no exaggeration, these blocks are out and being played with. The creativity it sparks, learning.. just pure fun. That is why we invested in another set for them. I highly recommend. These blocks are durable, well made and withstand all kinds of play!